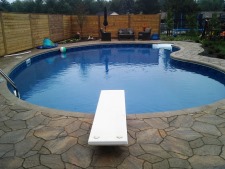 Welcome
Noren Construction & Landscape offers various options for your backyard retreat and your home renovation. We design, build and landscape to suit your needs with great skill and care. A few of the features we provide are walkways, backyard and pool patios, steps, retaining walls and garden planters. We also provide other services such as indoor renovations and property maintenance. We can renovate any bathroom, kitchen or basement to fulfill your indoor living plans. We service both residential and commercial properties. With the working owner's many years of experience, whatever your requirements are, from small to large projects, we do it all. A written guarantee is always part of the contract.
Check out some of our renovations and landscaping work in the gallery.
Call us for a free estimate at 613-335-2332.
Contact us today to set up an appointment that suits your schedule. We will be happy to discuss your renovation and or landscaping needs.